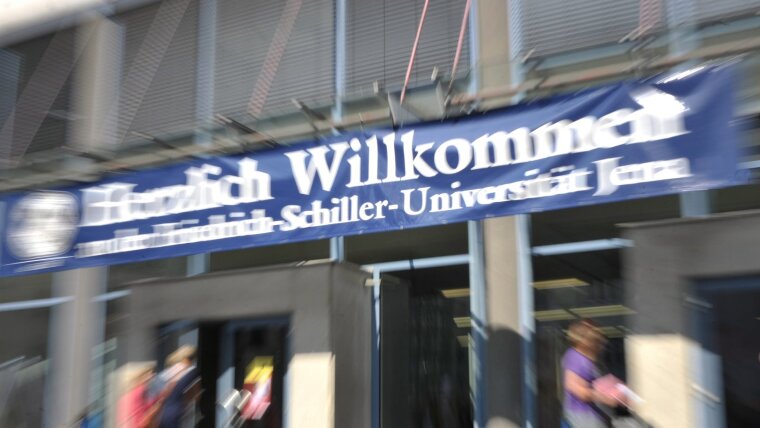 Application
Guide to the application process and student support
Application
Image: Jan-Peter Kasper
Application Requirements
General rules for admission are described in study regulations under §2 (Englishpdf, 116 kb · de/Deutschpdf, 62 kb · de)
Prerequisite for admission to the Master of Science in "Chemistry of Materials" is a first university degree (Bachelor, Diplom) in chemistry, chemical engineering or physics with an overall final grade 'good' ('gut') or better.
Principally, graduates of related study programs, in particular in materials science, are granted admission if their degree is equivalent to the above. Alternative degree equivalencies will be considered on an individual basis and admission will include stipulations depending on the academic degree.
In special cases, the applicant will be invited to a personal interview.
English language skills corresponding to level B2 are required.
Required Documents
Signed online application form "Application for Admission at the Friedrich Schiller University Jena to the Masters Programme" (generated automatically at the end of the online application via Master-Online-Application-System)
Curriculum vitae including complete contact information, educational background, and professional experience
Motivation letter (in which you describe your intention to pursue graduate studies in the field of your choice; max. 500 words)
if available: Proof of personal scientific experience (scientific work, publications, research activity, research and studies stay abroad)
if available: Proof of relevant work (industry activity etc.)
Your secondary school certificate (baccalauréat, high school diploma, etc.)
All previous university degrees (Bachelor of Arts, Bachelor of Science, etc.) if available before the application deadline - otherwise, please make a note of the anticipated graduation date. The corresponding transcripts for each degree, including your cumulative grade point average (minimum requirement is the proof of credits of the term before last)
For foreign Bachelor degrees: Proof of the grading system used by the university
if available: Proof of proficiency in English
Special requirements for international applicants:
APS certificate: applicants with a Chinese, Mongolian or Vietnamese degree
College Entrance Examination: Iran (since 2011 no college entrance examination, but pre-university year), Republic of Korea (Scholastic Ability Test)
Contact for general questions (application/enrollment process, framework conditions):
Deadlines
The Master of Science program "Chemistry of Materials" starts only in winter semester. Online applications are possible from April 1st until July 15th for international and September 15th for national applicants.
Link for Application
Applications for the Master of Science program "Chemistry of Materials" have to be submitted via the Master-Online-Application-System of the Friedrich-Schiller-University Jena.
Information for incoming students
The International Office of the Friedrich-Schiller-Universität Jena assists all international students and coordinates the activities of the Language CenterExternal link, Student Services, student groups, and student mentors. A comprehensive program covering counselling, administrative support, language courses and tutoring for incoming students is offered. More information is also available online here. The Friedrich Schiller University has ERASMUS agreements with more than 200 European partners and 30 bilateral agreements with partners in Eastern and Southeastern Europe, the USA, Canada, and Japan.
The International Office also helps to arrange accommodation for students who come to Jena on exchange or scholarship programs. Accommodation in student residences is provided by Student Services ("Studentenwerk")External link. Private apartments are also available but cannot be centrally mediated. Student mentors assist incoming students, meet them at the train station, show them to their rooms, introduce them to the university and its facilities, show them the city of Jena and student life, and help them with paperwork. Student associations and groups offer a wide variety of joint activities and events, tandem language courses, concerts, excursions, etc., all of which help the international students to feel welcome and integrated.
More information for new students can you find here.